This is something that I've done long before I start with scrapbooking. It's more like a photo editing or maybe it could be scrapbooking too. My 3 sweet little babies.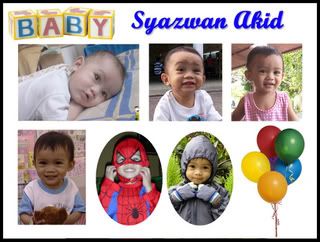 This is my eldest born, Syazwan Akid. He's going to be 6 years old on Feb 16th.
My second born, Syazwan Irfan. He's going to be 4 years old on Feb 13th.
And this is the youngest, sweet baby Syazwina Iffah and she's going to be 1 year old on Feb 24th.